Leon Wrage Award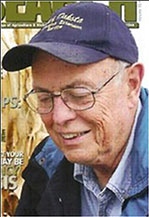 Upon retirement in 2005, SDABA recognized Leon J Wrage as going "above and beyond" in his service to the crop production industry, and presented him with an award at the SD Ag Expo. Since then, the Leon J Wrage award has been given each year to other individuals for exemplary service to the crop production industry.
About Leon
Having spent his childhood on a farm in McCook County, South Dakota, Leon has a natural affinity for agriculture. He earned a Master's degree in Agronomy at SDSU in 1964 and was an Extension Crop Specialist at the University of Wisconsin-Madison for five years prior to returning to South Dakota in 1969. Leon served as Extension Weed Specialist at South Dakota State University for 35 years.
During his tenure at SDSU, Leon worked closely with producers, industry representatives, commercial applicators and homeowners on weed management and control.
2022: Wally West
After receiving his B.S. degree in agronomy from South Dakota State University, Wally began his career in 1980 as a Sales Representative with Stauffer Chemical. Wally has been critical in launching many pivotal new products like Callisto, Quadris, Force, Fusilade, Warrior, Acuron, Halex GT and many others throughout his tenure.

His contribution to Syngenta and legacy companies throughout the years has been in various capacities including sales, field marketing, distributor account management, sales management, electronic commerce development, and agronomy service. As past president of the South Dakota Agri Business Association, Wally has been actively involved in agribusiness development both locally and nationally. He leaves a legacy of mentoring and training with a strong focus on results through building trusted advisor customer relationships. Additionally, Wally has been awarded several sales and leadership recognition awards over his years of service.
After 42 years of dedicated service to Syngenta and legacy companies, Wally West, retired from Syngenta on November 30, 2022.
2021: Todd Oster
Todd started his career with GTA Feeds in sales and worked his way to a sales manager position. In order to expand his knowledge about ag business, crop production, and develop himself to become a general manager, he accepted a location manager position at Lemmon, SD where he was exposed to feed, energy, agronomy, and grain. He was then promoted to General Manager at Salo Elevator in Badger, Minnesota where he ran a multi-location business for CHS. In 2005 Todd transferred to Gettysburg becoming the General Manager of CHS / Northern Plains. In 2020, Todd worked through the unification of CHS / Northern Plains and CHS / Midwest Coop and was promoted to General Manager of the newly formed 22 location business that is now called CHS / River Plains. Todd has made it a point to be active in many ag associations, including serving on our Board of Directors for 8 years and as its President in 2016. Todd's passion for agri-business, community involvement, development of people, and putting the customers first philosophy has propelled him as a leader in South Dakota's agriculture industry. There are many individuals he has mentored through the years who have become managers at locations throughout South Dakota. Todd is a class act, caring about people he works with and for. He is truly a man of many talents and is a leader in change management for farmers and ranchers who have evolved their cropping practices.
2020: Bjorn Nelson
The 2020 Leon Wrage Award goes to Bjorn Nelson. Bjorn goes above and beyond for the crop production industry every day. He's a graduate of SDSU and obtained his masters in agronomy from Iowa State, with a career now spanning 30 plus years. Bjorn is also one of the few people that has served two terms as President of the SDABA Board of Directors, and is one of the longest serving board members. Along with serving on the SDABA Board, he also serves on the CCA Board of Directors, as well as the SD Ag in the Classroom Board. Bjorn was instrumental also in getting the SDABA's TAL (Tomorrow's Ag Leaders) program going and continues to serve as the facilitator and mentor for the program.
2019: Ryan Wolf
The 2019 Leon Wrage Award recipient is Ryan Wolf, an Agronomy Services Manager at Winfield United. Ryan covers parts of South Dakota as a Regional Agronomist and trains agronomists, growers, and applicators on all aspects of crop production and specializes in plant nutrition and weed control.
Ryan has gone above and beyond in his service to the crop production industry as the chair of South Dakota NREC (Nutrient Research and Education Council). As many of you remember, the South Dakota Legislature passed a bill in 2016 to create and fund the Nutrient Research this Council in order to fund nutrient research projects with an increase of fifty cents in the fertilizer tonnage fee.
Ryan was instrumental in getting the Council off the ground and getting the first projects funded in 2017. At this time there are 14 projects funded.
2018: Valley Ag Supply, Greg and Tara Pirak
The 2018 Leon Wrage Award recipient is Valley Ag Supply, a family owned agronomy center that provides information, plant food, crop protection products, and custom application in Gayville, South Dakota. Tara and Greg Pirak started Valley Ag Supply in 2000, while they were both attending the University Of South Dakota. Through attention to customer service and a great crew of employees, this company continues to grow.
One of the many great services that Valley Ag Supply offers is their "Field to Table" learning experience for a hands-on educational opportunity to local youth. The in-field classroom provides an opportunity for youth to learn about the operation of a farm, how local commodities are grown, and how these crops are used in our everyday lives. The 2017 program had seven stations for the elementary students: Corn Growth and Development, Soybean Growth and Development, Soils & Small Grains, Dairy, Livestock, Machinery, and Plant Nutrition. The total attendance in 2017 was 610 students from 12 different schools!
In addition, Valley Ag Supply provides great customer service through frequent communication with their customers via their website, newsletter, field days, golf tournament and a week-long ag tour to other states.
2017: Virgil Sinning
Virgil served as in inspector for the South Dakota Department of Agriculture for 29 years, retiring on February 8, 2016. As an inspector he was essential to the Department's mission and the front line in protecting producer and consumer interests. Virgil has protected consumers by inspecting feed, fertilizer, and pesticide storage facilities, and investigated numerous pesticide spills, spray drifts, and fertilizer spills.
He earned a reputation for fairness and educating the public on regulatory compliance. Virgil took many of people under his wing and showed then the ropes and when that gruff voice of his spoke, you listened !!
2016: Dr. Gregg Carlson
For over 40 years, Dr. Gregg Carlson held a research, teaching and/or extension appointment as an Agronomist – Soil Scientist at South Dakota State University. His research efforts have been directed at the mathematics of applied precision agronomic recommendations, and he has authored or co-authored several hundred popular and peer reviewed agronomic articles and spoken at many more producer oriented meetings. Dr. Carlson developed and taught SDSU's first precision farming course beginning in the early 1980's, and counts most of South Dakota's practicing agronomists as his previous students. He has served as the Interim Head of SDSU's Plant Science Department and as the Interim Director of the South Dakota Cooperative Extension Service. Dr. Carlson retired from SDSU in the summer of 2015 but this spring semester, spring 2016, he is teaching SDSU's PS 440, Precision Agronomy and PS 483, Irrigation. He continues to work daily on popular and peer reviewed publications. Dr. Carlson believes and promotes South Dakota's greatest economic development opportunity, increased agronomic production and profitability through precise and intense agronomic management.
2015: Darrell Deneke
Darrell is the Extension IPM Program Coordinator at South Dakota State University. In his position, he provides educational and current information on integrated pest management in order to act as an information source to the extension educators, producers, ag industry, and crop consultants. Darrell also assists in the planning and implementation of herbicide plot work so that the knowledge gained from the studies can be used in Extension educational programs. He is the author of many publications as he assists the Extension Weed Specialist with the review and interpretation of pesticide labels. Darrell also consults and coordinates the activities of Extension Pest Specialists in order to provide a unified Integrated Pest Management Program.
The South Dakota Agri-Business Association was honored to present Darrell with this award for his commitment to the crop production industry for all that he does at SDSU along with putting together the IPM Field School for Agronomy Professionals and for his service on the South Dakota CCA Board of Directors.
2014: Ron Christensen
Ron received a degree in Chemical Engineering and began his career at the South Dakota Department of Ag in 1974. His career in Agriculture continued as a Crop Consultant and positions with Dekalb and Monsanto. Ron was instrumental in the training and education of the following critical product advancements in SD: RUR Soybeans; RUR Corn; BT Corn; Yield Guard; VT3; Drought Guard; Smart Stax; and RUP XTEND.
Throughout his career, Ron has been a respected source of information for the ag industry. He retired from Monsanto December 31, 2013. We thank Ron for his dedication to agriculture and for going "above and beyond" in his service to the crop production industry.
2013: Kendall Peterson
Kendall Peterson has been a true leader in our Ag Industry, and played a vital role in its success over the years. Kendall graduated college from the University of South Dakota, and then had many successful years with Monsanto early in his career, but his true passion was in Ag Retail, and being close to his family farm in Northville, SD.
He started Spink County Fertilizer & Chemical in the early 80's, and with help from his daughter Amber, and wife Linda, developed it into a thriving successful business before his retirement in 2007. Kendall's innovative mindset and vision of the future has made him well respected in the Ag Community.
2012: Jim Wilson, SDSU, Retired
Jim served as the Extension Pesticide Coordinator at South Dakota State Uiversity since 1989. Jim has coordinated the pesticide recertification program for many years and retired in December of 2011. Prior to working at SDSU, he was a County Extension Agent in Day County from 1980-1989. He has a PhD, a Masters Degree and a Bachelors degree from SDSU.
2011: Scott Hier, SD Wheat Growers
Scott began his career in agronomy as an intern at Bath Fertilizer while attending Lake Area Technical Institute. He worked his way through the Agronomy Department beginning as an applicator, truck driver and spray operator.
Scott was named Location Manager of Bath Fertilizer in 1985. In 1994, he oversaw the move and development of a new facility as Bath Fertilizer relocated to its current site east of Aberdeen. While at Bath Fertilizer, he was awarded the National Environmental Respect Award in 1994. In 2000, Scott was named Vice President of Agronomy and moved to South Dakota Wheat Growers headquarters in Aberdeen where he supervised a team of four product managers.
In his 36 years with South Dakota Wheat Growers, Scott was very instrumental in growing the company's fertilizer and chemical business, as well as being involved in launching a precision ag program.
2010: Roger Moe
The"2010 Leon Wrage Achievement Award" honored former board member of the South Dakota Agri-Business Association, Roger Moe. Roger served three terms on the board from 1984-1996 and was President in both 1973 and 1974. He began his career in 1967, and worked for companies such as Chevron, Occidental, Midwest UAP, Helena, and United Suppliers.
2009: Paul Luetjen
Paul Luetjen with Syngenta Seed Care, Sioux Falls, was presented with the Leon Wrage Achievement Award during AG EXPO 2009. Paul is a member of the South Dakota Agri-Business Association, a former member of the Board of Directors of the South Dakota Fertilizer and Ag Chemical Association and served as its president in 1993. Paul has served on the CCA Board of directors since its inception, has held several offices on the board including Vice President.
2008: Dusty Miller
Dusty Miller, former President of C&R Supply, Sioux Falls was presented with the Leon Wrage Achievement Award during AG EXPO 2008. Dusty has exhibited outstanding commitment to SDABA by serving on the AG EXPO committee since 1994 and as its Co-chair from 1999-2012. He also served two terms as a committed member of the SDABA Board of Directors.
2007: Craig W Myron
2006: Dr. Marty Draper
2005: Leon J Wrage